The 11 Best Makeup Subscription Boxes in 2023 for every budget
Makeup subscription boxes are the ultimate indulgence for makeup lovers and beauty enthusiasts. Whether you're a makeup influencer, a luxury lover, a product junkie, or an editorial enthusiast, there's a beauty box out there tailored just for you.
Makeup subscription boxes are like having your makeup bag refreshed every month with the hottest new makeup brands or skincare that you might never have discovered on your own; and having the bonus of new, exciting finds being delivered straight to your doorstep.
Whether you're a makeup newbie or a seasoned pro, there's a beauty box waiting to add a dash of luxury to your life and be indulged by YOU! So, let's dive in and help you to discover the 11 best makeup subscription boxes and why they've earned their top spots on YNLS's hottest beauty boxes list.
The Best Beauty Subscription Boxes You'll Want Dropping on YOUR Doorstep!
Get ready to explore these fabulous beauty boxes that cater for every makeup enthusiast and every budget, so you can be pampered and spoiled by the best in the beauty industry:
Glossybox Beauty Box – Affordable Glamour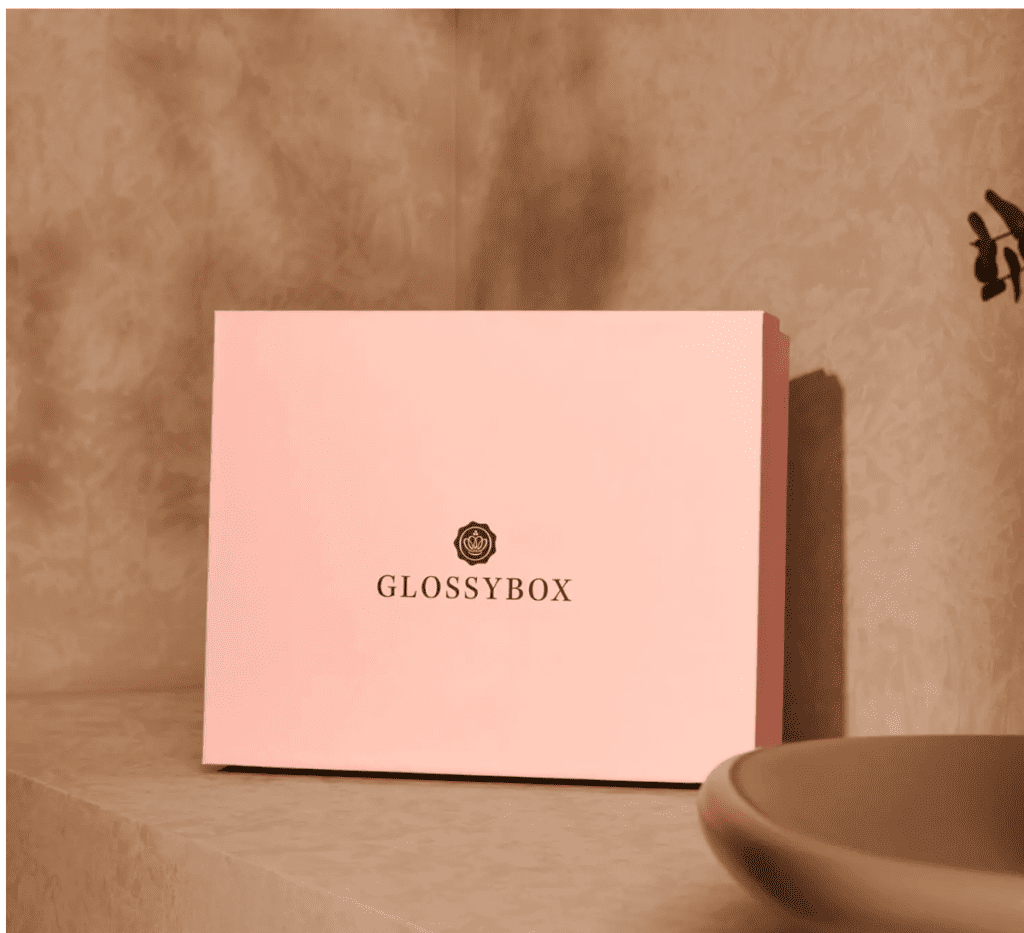 Affordable pricing starting at £11.50 per month Glossybox is the go-to subscription for affordable glamour. It proves that you don't need to spend a fortune to enjoy quality beauty products every month.
Use code 3for30 to get three lots of Glossybox for just £30
Pro's
Your receive five products worth over £50 every month
Includes a mix of full-sized and deluxe-sized products.
Features a diverse range of brands with iconic brands and new discoveries each month.
Ideal for beauty enthusiasts on a budget.
Cons
Limited customisation compared to some boxes.
Some products may not align with your personal preferences.
Sephora Build-Your-Own Beauty Box – Beauty Tailored to You

Affordable starting from £11.95 a month, Sephora Build-Your-Own Beauty Box puts the power in your hands. If you're a Sephora devotee and want to tailor your beauty box to your exact preferences, this subscription is your beauty playground. it's for those who live and breathe makeup and want to experiment with the best brands and products…
Pro's:
Allows you to choose your five sample products to try every month.
Offers a range of products from the different brands.
Ideal for those who want full control over their beauty selection.
Includes high-end, luxury brands.
Delivers deluxe-sized samples.
Con's:
Typically larger than sample size, but not full size products
Lookfantastic Beauty Box – Beauty from Across the Globe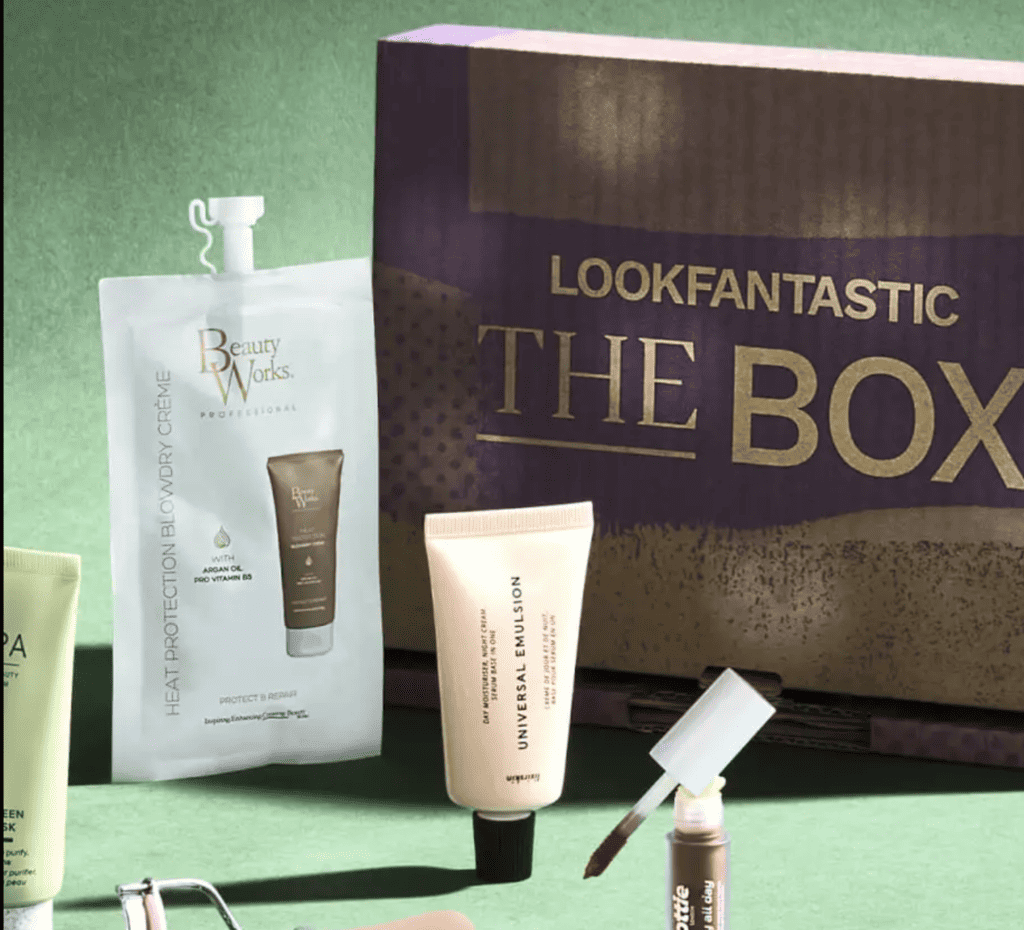 Priced affordably starting at £13 per month LOOKFANTASTIC Beauty Box is a well-rounded subscription featuring a mix of skincare and makeup products. It offers a taste of international beauty and is perfect for those who enjoy a diverse selection of beauty items. Lookfantastic Beauty Box is your passport to global beauty. If you love exploring beauty traditions and innovations from around the world, this subscription is your beauty globetrotter's dream.
Pro's:
Six deluxe size and full size beauty products products
Focuses on international beauty brands.
Includes both skincare and makeup products.
Ideal for those who enjoy a global beauty experience.
Con's:
Limited customisation options
The OK! Beauty Box – For the Beauty Obsessive on a Budget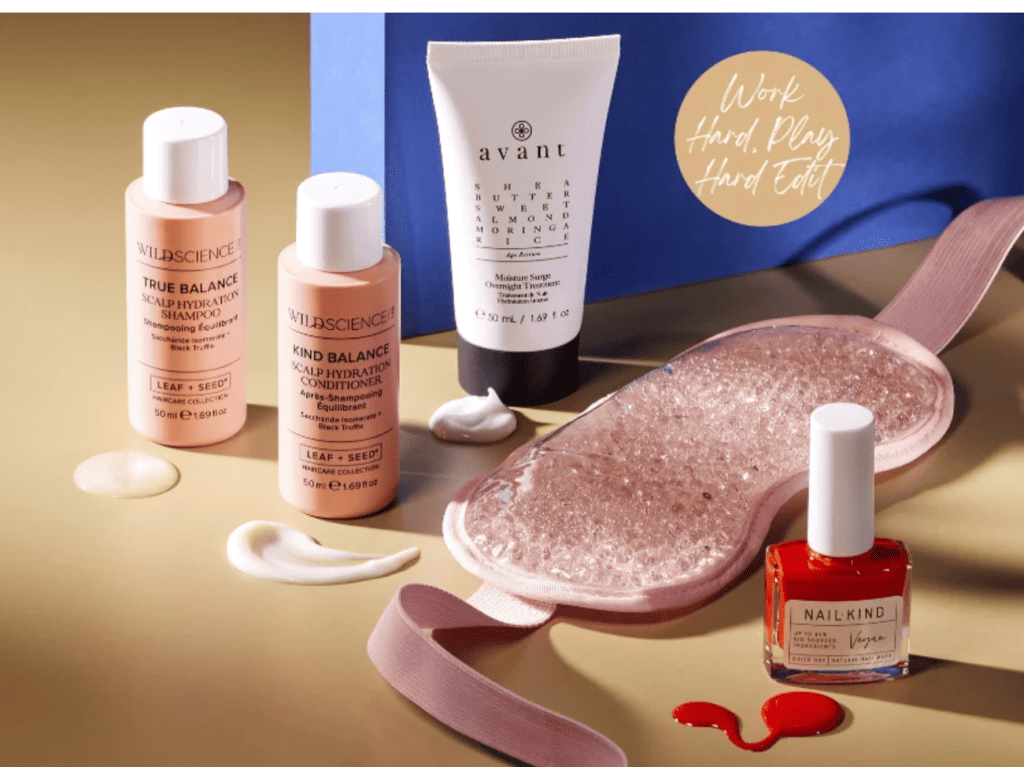 At £15 a month this beauty box is a steal, saving you around 80% of the RRP every month – with the added bonus of a voucher to claim TWO copies of OK magazine every month. The OK! Beauty Box is all about affordable beauty bliss. It's proof that you can enjoy a monthly beauty fix without breaking the bank.
Pro's:
Includes a mix of a minimum five beauty products a month worth at least £80.
Great for budget-conscious beauty lovers who still love a bit of luxury.
Offers a surprise beauty fix each month.
Con's:
Limited customization options.
Liberty Beauty Drop – A Taste of Luxury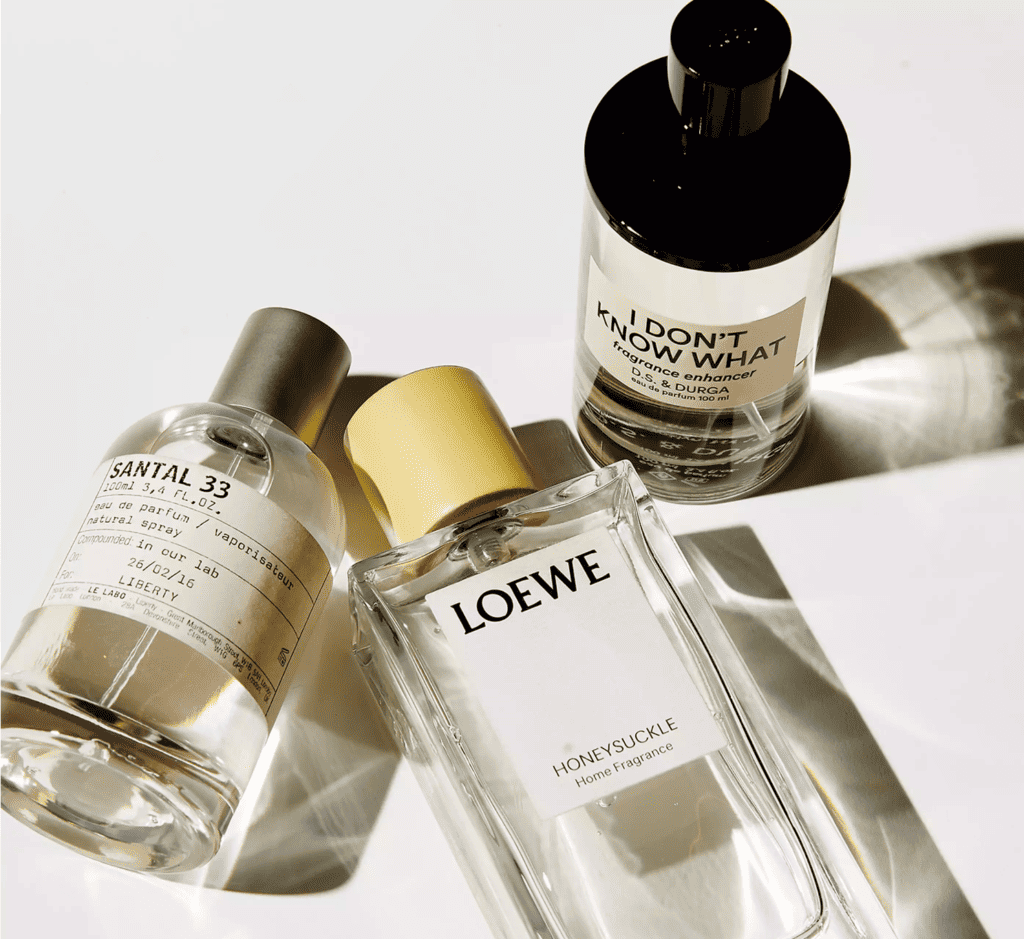 It's like your own beauty bank plus subscription to goodies – you deposit £20 per month into your beauty bank which is fully reedemable to spend on beauty anytime, plus you receive four beauty boxes with trial sized products each quarter
Pro's:
Curated by the renowned Liberty department store.
Offers premium beauty brands.
A great way to sample high-end products.
A beauty bank to save money to spend on luxury products
Con's:
May not include as many full-sized products.
Liberty Beauty Drop brings the charm of one of London's most iconic stores right to your doorstep. It's an opportunity to savour luxury beauty finds without the luxury price tag.
The Natural Beauty Box – Embrace Vegan, Cruelty Free and Clean Beauty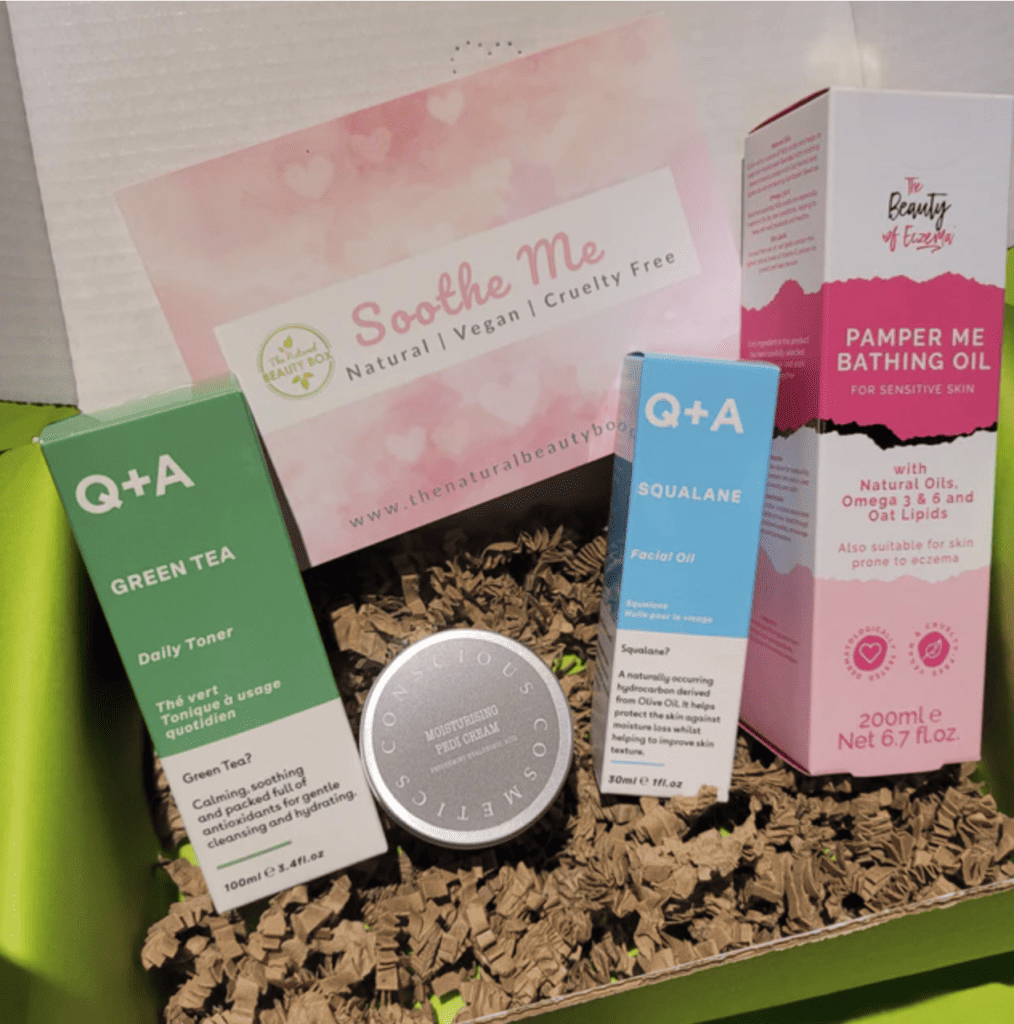 Priced reasonably starting at £24.95 – The Natural Beauty Box is your gateway to clean and conscious beauty.
Pro's:
Focuses on clean and natural beauty.
Supports indie beauty brands from across the UK and Europe
Includes both full-sized and sample-sized products.
Ideal for those who prioritise natural ingredients.
Con's:
Limited customisation options.
May not include as many mainstream brands.
If you're passionate about natural ingredients and ethical practices, this vegan, cruelty free beauty box is your clean beauty guide.
Lemonade Self-Care Box – For the Beauty Editor in You – Nourish Your Soul and Skin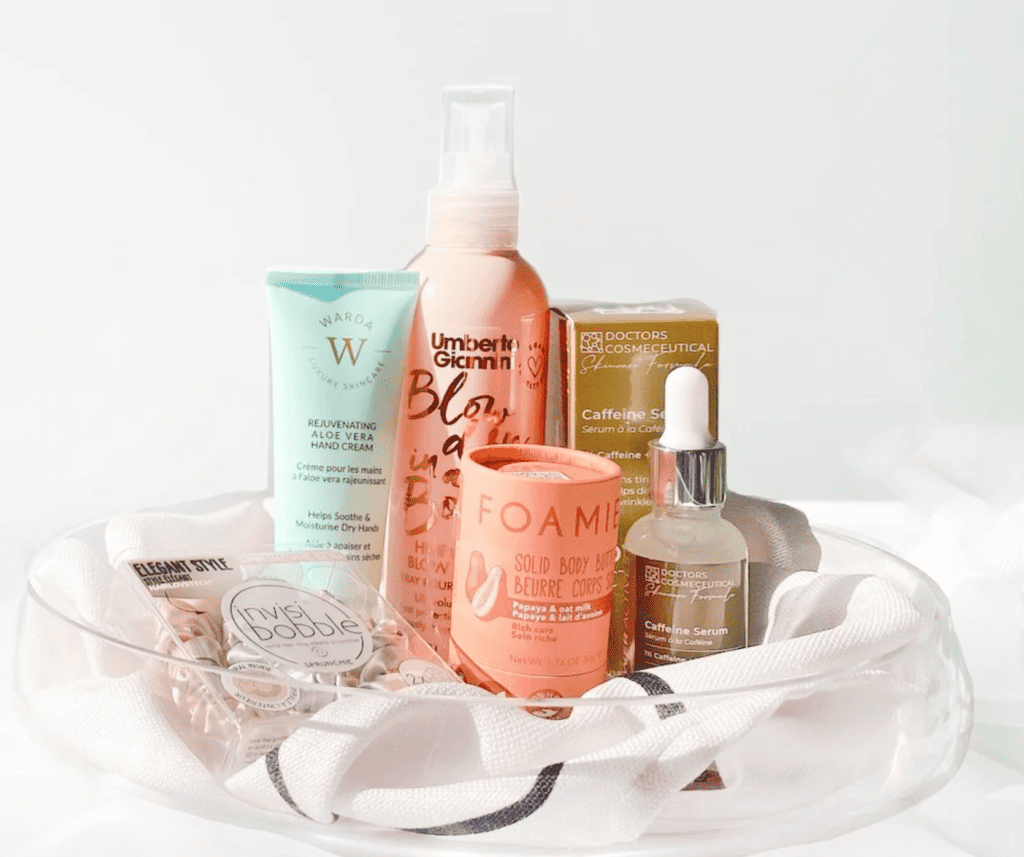 Starting at £25 per month, it's a luxurious self-care treat of products you would struggle to find elsewhere
Pro's:
Focuses on self-care and wellness.
You receive 5-6 wellness products each month worth a minimum of £60
Includes both beauty and lifestyle items.
Ideal for those who value holistic well-being.
Con's:
May not include as many mainstream brands.
Lemonade Self-Care Box is more than just beauty; it's about nurturing your soul. If you're seeking a holistic approach to self-care, this subscription will quench your thirst for wellness.
P.Louise Beauty Box – Unleash Your Creativity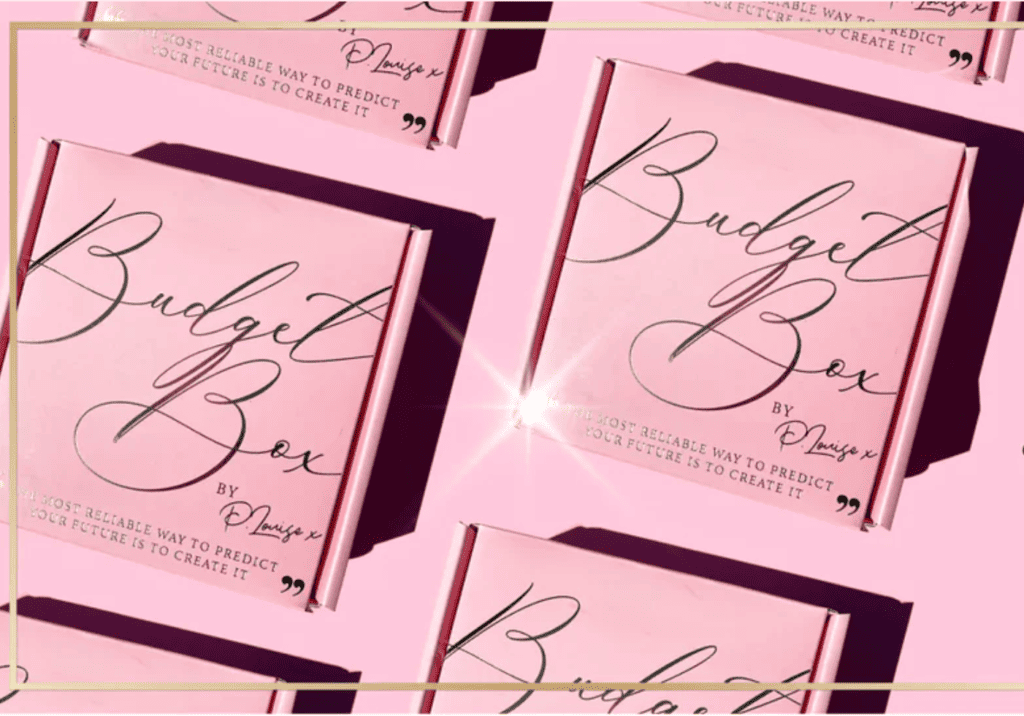 For those who are a bit extra and love being creative with their makeup looks, the P.Louise budget box is for you, priced at £30 a month.
Pro's:
Focuses on makeup products from the P.Louise brand.
Includes at least six items a month.
Ideal for makeup artists and creative souls.
Limited availability of P.Louise products.
May not cater to all beauty preferences.
P.Louise Beauty Box is a canvas for creativity. If you're an aspiring makeup artist or simply love experimenting with makeup, this subscription will fuel your artistic spirit.
Beguile Beauty Box – A Monthly Dose of Elegance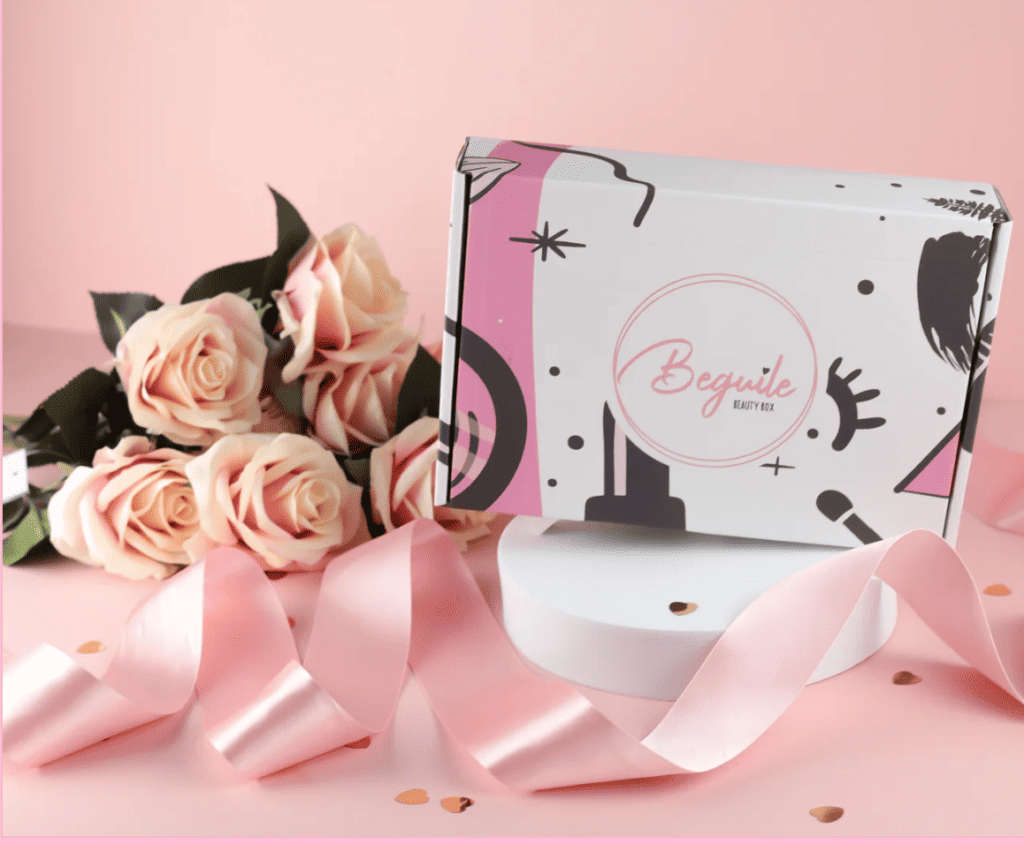 Starting at £30.99 per month the boxes are tailored made just for you, this beauty box is a definite luxury treat worth indulging in. At the time of publishing you can claim 50% off of your first beauty box.
Pro's:
Offers premium beauty products like CHANEL, Bobbi Brown and Bali Body.
Curated with a focus on luxury and elegance.
Great for those who appreciate sophistication.
Contain FULL SIZED products
Con's:
Higher price point compared to some other boxes.
Beguile Beauty Box is for you if you crave luxurious beauty and cant resist extra sophistication.
Cohorted Beauty Box – Luxury at Your Doorstep For the Full-Sized Fancier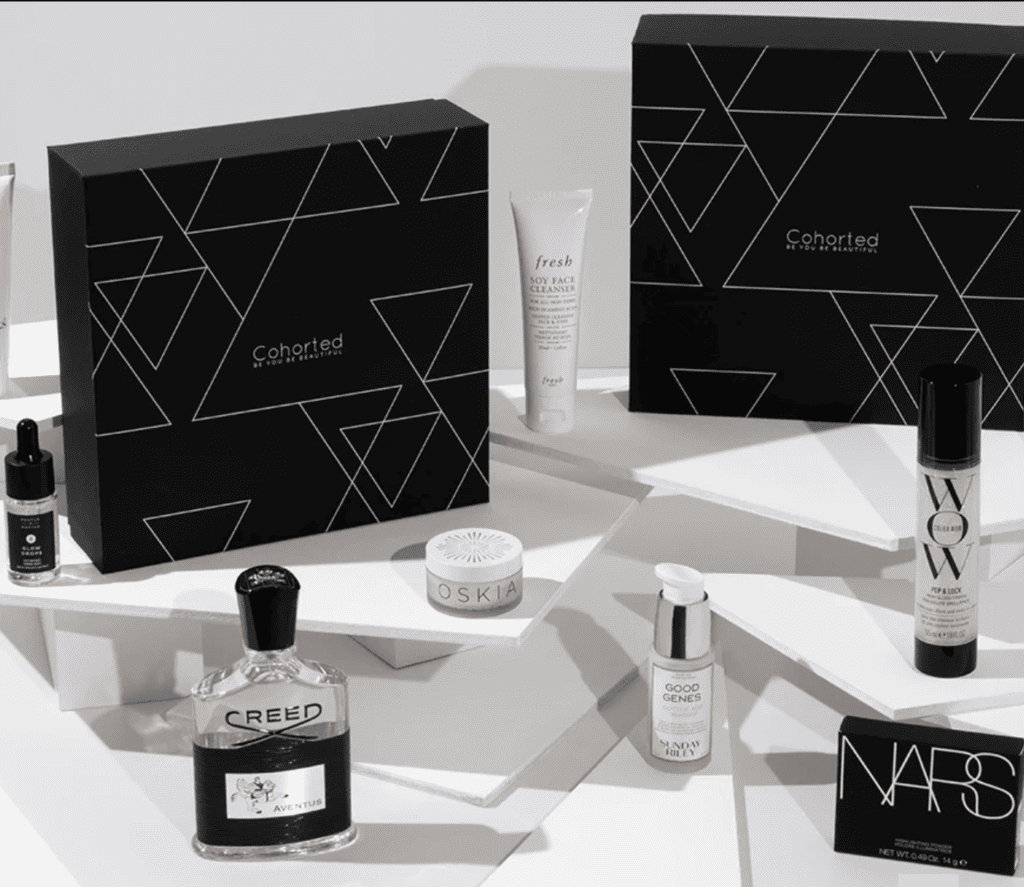 Priced at £39.99 a month, it's a luxurious treat worth the splurge.
Pro's:
High-end beauty products curated monthly from cult brands.
Receive a copy of the Coherted magazine inside your beauty box every month
Emphasis on luxury and glamour.
Includes both full-sized and deluxe samples.
Claim extra free gifts just for subscribing
Con's:
Higher price point compared to many other boxes.
Limited customisation options.
Cohorted Beauty Box is all about indulgence. It's for those who want to experience the crème de la crème of beauty products and enjoy a touch of opulence in their routine.
MINTD Box – A a premium beauty experience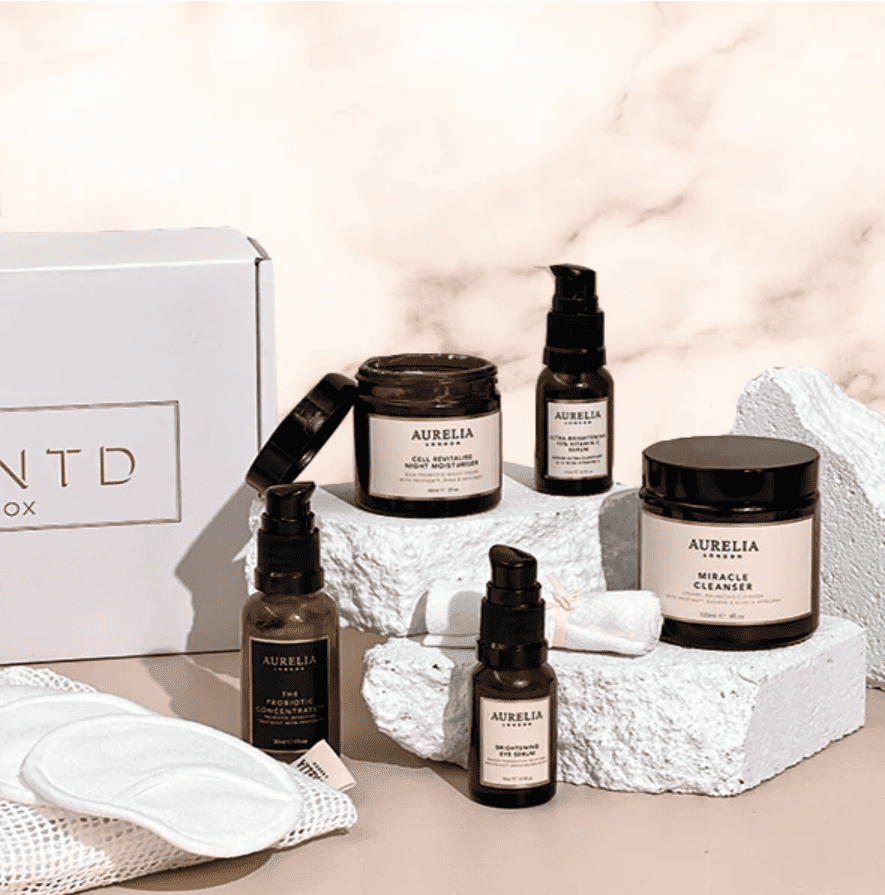 Priced at £60 a month, it's a premium beauty experience and perfect for those who appreciate expert curation and enjoy trying a mix of classic and innovative beauty products.
Pro's:
Offers high-end, luxury beauty products.
Carefully curated for your each month
Includes 4-5 full-sized luxury products
Focuses on luxury skincare.
Con's:
Higher price point.
May not include as many makeup products.
MINTD delivers a monthly dose of luxury that skincare aficionados are sure to love. It's for those who believe in pampering their skin with the finest, most exquisite products.
Ten Reasons WHY It Makes Sense to Sign Up for a Makeup and Beauty Subscription Box
Cost-Effective
Many subscription boxes provide a great bang for your buck. You'll often receive products that far exceed the value of your monthly subscription fee, making it a cost-effective way to expand your beauty collection. This is especially true for boxes that include full-sized products.
Customisation
Several beauty subscription boxes allow you to customize your selections, tailoring the products to your specific preferences. This ensures that you receive items that align with your beauty needs, whether you're a skincare guru, a makeup maven, or both.
Expert Curation
Beauty subscription boxes curated by experts in the field, like beauty editors or makeup artists, provide a level of trust and expertise. You can count on receiving high-quality, well-researched, and thoughtfully selected products that are both effective and luxurious.
Convenience
Imagine having a monthly dose of beauty goodness delivered right to your doorstep. No more rushing to the store or scrolling through countless online product reviews. With a subscription box, you get curated beauty delivered hassle-free.
Exploration and Education
These boxes allow you to experiment with new trends and beauty techniques. You'll gain exposure to different brands, ingredients, and styles, expanding your beauty knowledge and repertoire.
Exclusive Access
Some subscription boxes offer exclusive access to brands and products that may not be readily available elsewhere. This can be a game-changer if you're a beauty connoisseur always on the hunt for unique finds.
Self-Care and Excitement
Unboxing a beauty subscription box is an experience in itself. It's like receiving a monthly gift to yourself, and the anticipation of discovering what's inside adds an element of excitement to your beauty routine. It's a form of self-care and self-indulgence.
Beauty Tailored to Your Needs
Whether you're focused on anti-aging, clean beauty, vegan products, or sensitive skin solutions, there's likely a subscription box that caters specifically to your needs and values. This personalization ensures that you're getting products that align with your beauty goals.
Sustainability and Ethical Choices
Many beauty subscription boxes now prioritize sustainability and ethical practices. You can support brands that are cruelty-free, eco-conscious, and dedicated to responsible packaging, contributing to a more sustainable beauty industry.
Community and Connection
Joining a beauty subscription community can be a delightful experience. You can connect with fellow beauty enthusiasts, share tips and tricks, and even swap products to discover what works best for you.
Final thoughts
Signing up for a makeup and beauty subscription box is not just about receiving products; it's about prioritising your self-care and beauty journey – and adding a touch of excitement and discovery to it. It's a smart, cost effective and enjoyable way to stay up-to-date with the latest beauty trends while pampering yourself with high-quality products. So, treat yourself and indulge in the joy of unboxing fabulous new products every month. If cost-effective treats are your thing, check out our favourite Zara perfume dupes.