The Ultimate Guide to CC Creams: Finding Your Perfect Match
When it comes to your daily beauty routine, finding the perfect CC cream can be a game-changer – imagine flawless, glowing skin with perfect coverage. That's what finding the correct CC cream can do for you. CC creams are are designed to provide colour correction, coverage, sun protection, with moisturiser added in for extra benefits. Unless you are loyal to a particular beauty brand, with so many options on the market, it can be overwhelming to narrow down the right CC cream to suit your needs. Well we have you covered – want to find a cc cream that also has Hyaluronic Acid – we have found one – or a cc cream with Amazonian Clay to double down on your moisturising routine? We've found that too!
So to help you find your perfect match, we've explored the best CC creams in the market, highlighting what we like about them, in terms of coverage, moisturising properties, sun protection, colour correction, shade range to suit all skin tones and of course – pricing, and we'll share our personal preferences here at YNLS headquarters!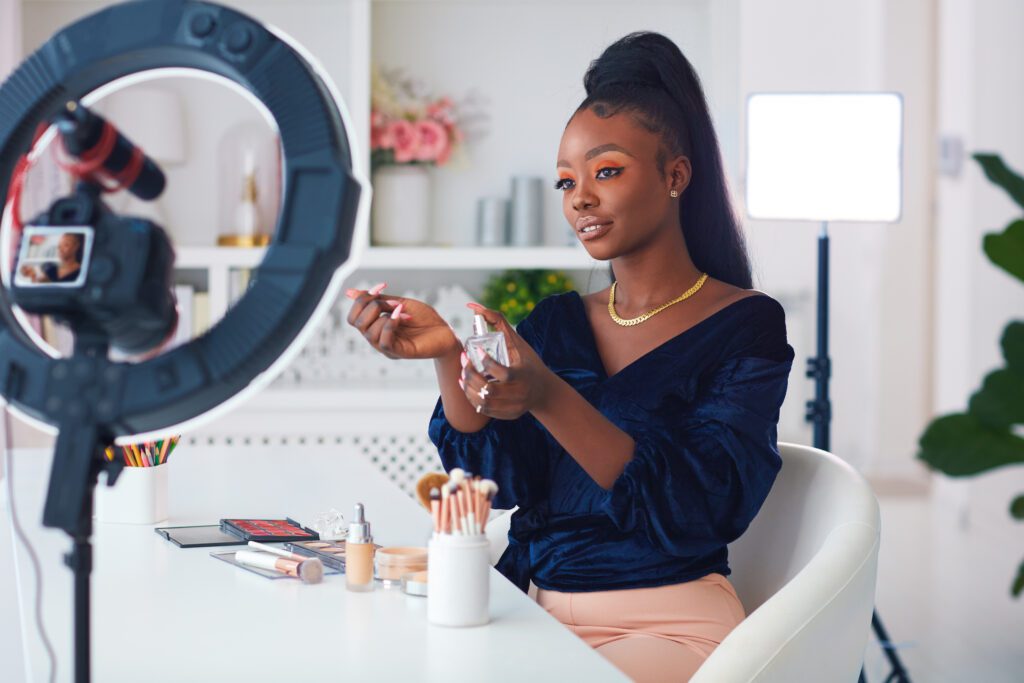 What is the difference between BB cream and CC cream?
Let's start by clarifying a common misconception between BB creams and CC creams and that they serve the same purpose in your beauty bag because they really don't! Both are designed for different purposes for your skin and make-up routine.
BB Cream: Your beauty balm or blemish balm
BB cream, which stands for "Beauty Balm" or "Blemish Balm," is like your trustworthy best friend. It's that one product you grab when you want a no-fuss, natural look.
Think of it as a multitasking miracle worker. BB cream offers a bit of coverage (not too heavy, not too light) to even out your skin tone. It's perfect for those days when you want your skin to breathe but still look good.
BB creams often come with some added benefits, like moisturizing your skin and providing a touch of sun protection. They can also help blur out minor imperfections and give you a healthy, radiant glow. It's like your secret weapon for the "I woke up like this" look.
CC Cream: The Colour Corrector
Now, introducing the CC cream, which stands for "Colour Correcting" or "Complexion Corrector." CC cream is like the master of disguise in the makeup world.
CC cream steps in when you have specific skin concerns, like redness, sallowness, or uneven skin tone. It's like an artist's palette, designed to neutralize your skins imperfections.
If you've got redness from acne, or maybe some dark spots you'd like to tone down, CC cream has got your back. It's not as concerned with coverage as it is with correcting the colours on your canvas (your face!).
CC creams often contain antioxidants and skincare goodies to help improve your skin's overall health. They're like skincare and make-up rolled into one – a real beauty bag lifesaver.
The 7 Best CC Creams for a Radiant Complexion
Best for Coverage: IT Cosmetics Your Skin But Better CC+ Cream SPF 50+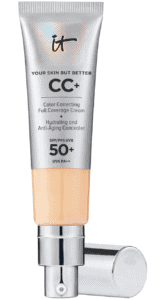 Coverage is often a top priority, and the IT Cosmetics CC+ Cream excels in this category. With a medium-to-full coverage formula, it effectively conceals imperfections, redness, and uneven skin tone. It's a great choice for those looking for a CC cream that can double as a foundation, providing a flawless finish.
Why We Like It

The IT Cosmetics CC+ Cream provides impressive coverage while still feeling lightweight and comfortable on the skin. It's also packed with skincare benefits like hyaluronic acid and SPF 50+ for added protection.
Available shade range

Twenty two different shades in the shade range, to suit your skin tone, ranging from fair colour to deep, and a mix of warm and cool tones too.
Price at time of publishing £36.50
Best for Moisturizing: KIKO Milano Green Me Hydrating Bb Cream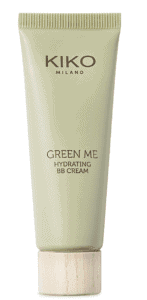 So not quite a CC cream, but we had to include for those who prioritize having a hydrating and moisturing make-up product which the KIKO Milano Green Me Hydrating Bb Cream is an excellent option for. Enriched with aloe extract and hyaluronic acid, it helps balance skin and provides long-lasting hydration, making it perfect for those with dry or dehydrated skin.
Why We Like It
90% of this BB cream's ingredients are derived from natural materilas and it's moisturizing properties help create a dewy, natural glow. It also offers buildable coverage, making it versatile for different occasions.
Available shade range
This BB cream provides four options in their shade range, from natural beige to hazlenut.
Price at time of publishing £14.75
Best for Sun Protection: Supergoop! CC Screen 100% Mineral CC Cream SPF 50
Sun protection is crucial for maintaining healthy skin, and the Amorepacific Colour Control Cushion Compact SPF 50+ has you covered. With SPF 50 it provides broad-spectrum protection against harmful UV rays, making it an ideal choice for daily wear. Also contains Niacinamide.
Why We Like It
Besides its sun protection benefits, this CC cream is also packed with antioxidants and essential fatty acids to improve your skin's overall health.
Available shade range
There are fifteen different shade ranges to choose from.
Price at time of publishing £29.00
Best for Acne-Prone Skin: Rosalique 3 in 1 Anti-Redness Miracle Formula SPF50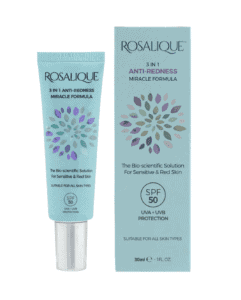 Acne-prone skin or skin prone to redness like rosacea requires special care to avoid clogged pores and breakouts. Rosalique 3 in 1 Anti-Redness Miracle Formula is formulated with sensitive skin in mind due to its non-comedogenic formula and soothing properties.. It contains skincare ingredients that help soothe redness and irritation associated with acne to provide an instant concealing effect, making it an ideal choice for those with sensitive and blemish-prone skin.
Why We Like It
It's non-comedogenic, meaning it won't clog pores or exacerbate acne. It provides sheer to light coverage and effectively conceals redness while nurturing the skin with added moisture and an SPF50 for everyday wear.
Available shade range

Comes in one shade as the Rosalique 3 in 1 Anti-Redness Miracle Formula is designed to be used as a colour correcting concealer or as a primer under make-up.
Price at time of publishing £37
Best Budget Option: Maybelline New York Dream Fresh BB Cream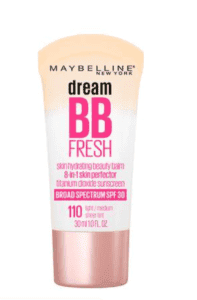 For those on a budget, the Maybelline Dream Fresh BB Cream is an excellent choice. While it's technically a BB cream, it still provides decent colour correction, moisture, and SPF 30 protection, all at an affordable price point.
Why We Like It

This product offers a sheer, natural finish, with an added SPF it makes it perfect for everyday wear without breaking the bank.
Available shade range

Comes in five different shades from light to deep.
Price at time of publishing £14.99
Best High-End Option: CHANEL CC Cream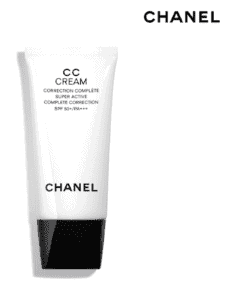 If price is no object and your a sucker for a designer brand, and love a little extra luxury, the CHANEL CC Cream is a top contender for a luxurious CC cream. It offers a smooth, velvety finish with a light, buildable coverage. However, with luxury, comes a premium price. If you have a higher budget and want a luxurious CC cream suitable for acne-prone skin, consider the CHANEL CC Cream. While it comes at a premium price, it provides a smooth, velvety finish with light, buildable coverage.
Why We Like It: This CC cream offers a touch of luxury to your skincare routine and won't exacerbate acne. It leaves your skin looking elegant and radiant.
Why We Like It

This CC cream feels like a high-end skincare product and provides a subtle, elegant glow. It's a splurge-worthy option for those who prioritize luxury.
Available shade range

CHANEL's CC Cream is available in seven shades.
Price at time of publishing £50.00
Best for a range of shades: Thrive Causemetics Buildable Blur CC Cream SPF 35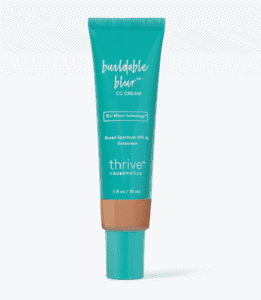 Whether you want a sheer, natural look or something more substantial to conceal imperfections, this CC cream has you covered. With added SPF 35, this CC cream provides a layer of protection against UV rays which is vital for maintaining healthy, youthful-looking skin. Thrive Causemetics are also known for their commitment to being vegan and cruelty-free. So, using this CC cream is like supporting a brand that cares about animals and the environment too.
Why we like it

Not only do we love how this brand is truly inclusive, offering perhaps the widest range of skin tone options for their CC cream but their CC cream is not just makeup; it's skincare too. This CC cream is infused with skin-loving ingredients like hyaluronic acid and vitamin C, which hydrate and brighten your skin while you wear it. It's like a little treat for your face. If you prefer a matte finish, you'll appreciate how this CC cream keeps shine at bay, making it perfect for those with oily or combination skin.
Available shade range

Perhaps the most inclusive CC Cream on the market, Thrive Causemetics believe it's important to have options that cater to various skin tones, and true to their belief they offers a range of shades to make sure everyone can find their perfect match – that'll be all 28 different tones.
Price at time of publishing £52.00
How to choose the Perfect CC Cream

Skin Type Assessment

Begin by identifying your skin type and specific concerns. Whether you have dry, oily, combination, sensitive, or acne-prone skin, understanding your skin's unique characteristics will help you choose a CC cream that addresses your specific needs.
Coverage Level

Determine the level of coverage you desire. CC creams typically offer sheer to medium coverage. If you need more coverage for blemishes or imperfections, opt for a product that leans towards medium coverage.
Ingredients
Check the ingredient list for beneficial components like antioxidants, hyaluronic acid, vitamins, and SPF. Ingredients like these can enhance your skincare routine and protect your skin from environmental damage.
Sun Protection

Look for CC creams with broad-spectrum SPF to shield your skin from harmful UV rays. SPF 30 or higher is ideal for daily protection.
Non-Comedogenic

If you have acne-prone skin, ensure that the CC cream is labeled as non-comedogenic. This means it won't clog pores and exacerbate breakouts.
Colour Correction

If you have specific colour correction needs, such as neutralizing redness or brightening dull skin, choose a CC cream designed to address those concerns. Some CC creams are formulated to tackle various colour issues.
Moisturizing Properties
Assess your skin's moisture needs. If you have dry skin, opt for a CC cream with hydrating ingredients. Conversely, if you have oily skin, choose a product with oil-controlling properties.
Longevity
Consider the longevity of the CC cream. If you need your makeup to last all day, search for options that provide long-wear formulas.
Shade Range

Ensure the CC cream offers shades that match your skin tone. Some brands offer limited shade ranges, while others have a broader selection to cater to various complexions.
Price Point
Determine your budget and look for CC creams that fit within it. Remember that higher-priced options may contain premium ingredients or come from luxury brands.
Reviews and Recommendations

Read reviews and seek recommendations from trusted sources or beauty experts. Real-world experiences can help you gauge how a particular CC cream performs on different skin types.
Final thoughts

Selecting the right CC cream can sometimes feel like a minefield but getting it right is a game changer for your every day make-up routine. It involves considering your skin type, coverage preferences, ingredients, and other specific skin needs. By following these tips and exploring the best CC creams on the market, you can find the perfect match that not only enhances your skin's appearance but also addresses your unique skincare concerns. Remember that your skin may change over time, so periodically reassess your CC cream choice to ensure it continues to meet your needs.